The global cost of visual impairment
Did you know that 250 million people suffer from visual impairment at a global cost of $3 trillion? This number is expected to double by 2050. Clinicians and researchers monitor the health of our eyes through imaging and interpreting quantitative signatures of disease, called biomarkers. The development of biomarkers in ophthalmology is a challenging endeavour. Clinical data management tools are not well-suited to the data access needs of biomarker research. Translational Imaging Innovations (TII) is addressing the challenge of biomarker development with an integrated online platform. TII's mission is to make data more accessible and actionable for investigators, empowering images to accelerate innovations in eye care. By unleashing the power of the eye, we can transform medicine.
TII's Software Aims To Accelerate Ophthalmic Clinical Innovation
Translational Imaging Innovations (TII), which will be presenting at CED's Venture Connect summit on April 7, is on a quest to deliver sight-saving medical breakthroughs faster. The startup, which is based in Hickory but has a majority of employees working in RTP, does this by integrating imaging science workflows and advanced analytics for ophthalmic research and trials.
Dr. Eric Buckland – Translational Imaging Innovations: Accelerating Ophthalmic Research Through an Integrated Online Platform
Led by Dr. Eric Buckland, Translational Imaging Innovations, Inc. (TII) provides purpose-driven software systems that drive such ophthalmic research forward. The TII image management platform provides researchers with the tools to manage multifaceted imaging workflows and efficiently organize and analyse complex sets of images and data to accelerate the development of new diagnoses and treatments for eye diseases. By unleashing the power of the eye, TII aims to transform medicine.
TII Receives $1.5M Direct-to-Phase II SBIR Award for Integrated Software Platform - Lattice
Lattice is an integrated software platform for the collection, curation, analysis and sharing of ocular images and data.
The Phase II award will allow TII to fully integrate Lattice as a workflow-centric product and data management platform for pre-clinical and clinical research.
Our Integrated Translational ImagingTM platform is the solution that our innovators have been asking for to improve their quest for better patient outcomes.
Eric Buckland Inducted Into Medical And Biological Engineering Elite
The American Institute for Medical and Biological Engineering (AIMBE) announced the induction of Eric Buckland, Ph.D., to its College of Fellows.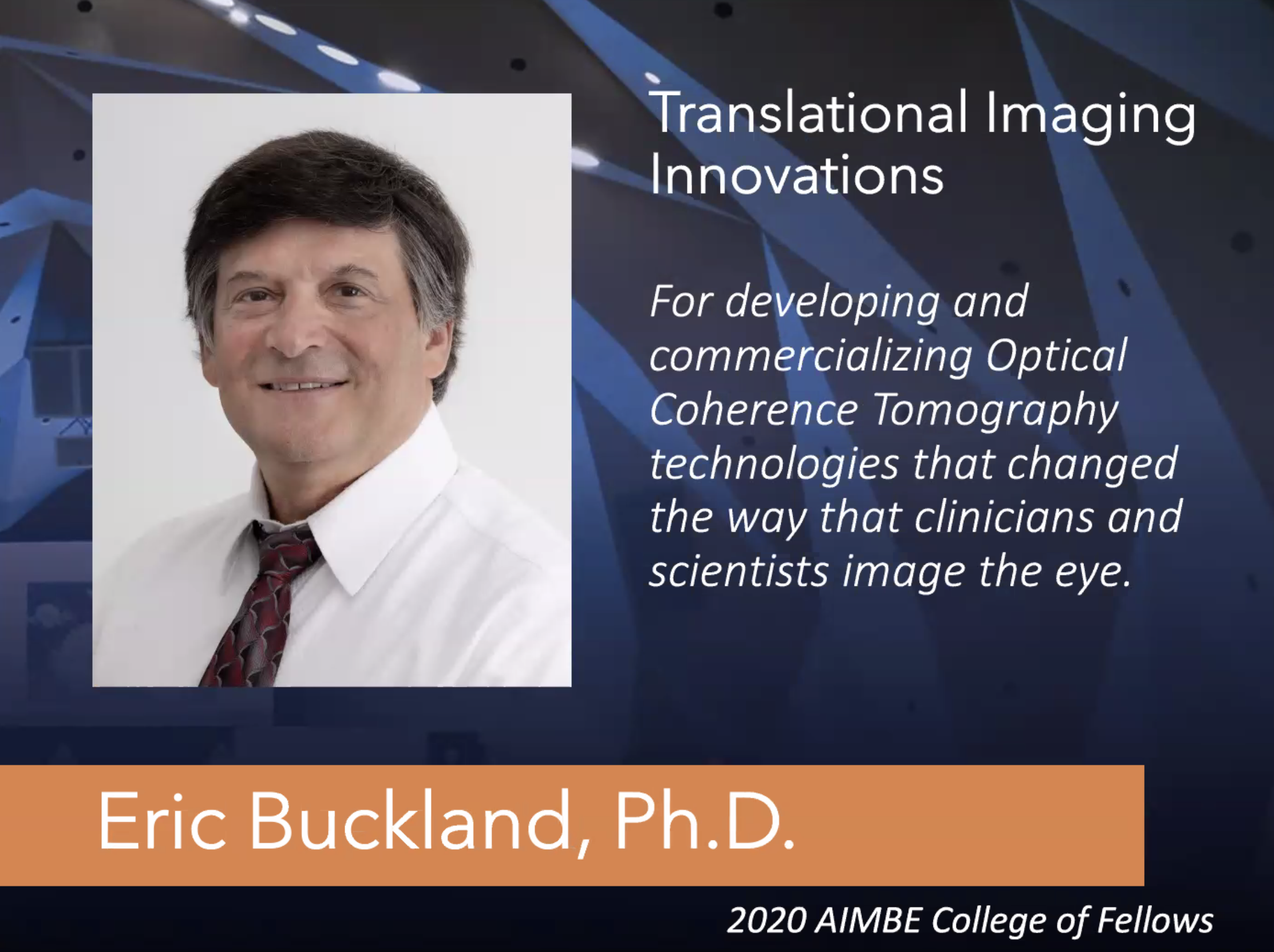 The in-person induction ceremony was replaced with an online video ceremony. "Despite not being able to attend in person, family and friends were able to join in the video ceremony. I am honored to be included in the College of Fellows with such fantastic company," Buckland said.
Dr. Buckland was nominated, reviewed, and elected by peers and members of the College of Fellows for "developing and commercializing Optical Coherence Tomography technologies that changed the way that clinicians and scientists image the eye."
Translational Imaging Innovations FEATURED IN NORTH CAROLINA BIOTECHNOLOGY CENTER publication "NC medical software startup targets eye disorders, plans to locate in RTP"
Eric Buckland discussed TII's origins and suite of software tools to help scientists and doctors get medical innovations into the eye clinic faster, with less frustration and at a lower cost.

"It is critical to leverage the untapped medical information hidden within these images to advance diagnosis and accelerate the development of new therapies to treat blinding eye disease," Buckland said. "This program is the beginning of our mission to unleash the power of the eye and transform medicine."
TII receives the Global Health and Pharma 2020 Biotechnology Award for BEST IMAGING SCIENCE WORKFLOW INTEGRATION SPECIALISTS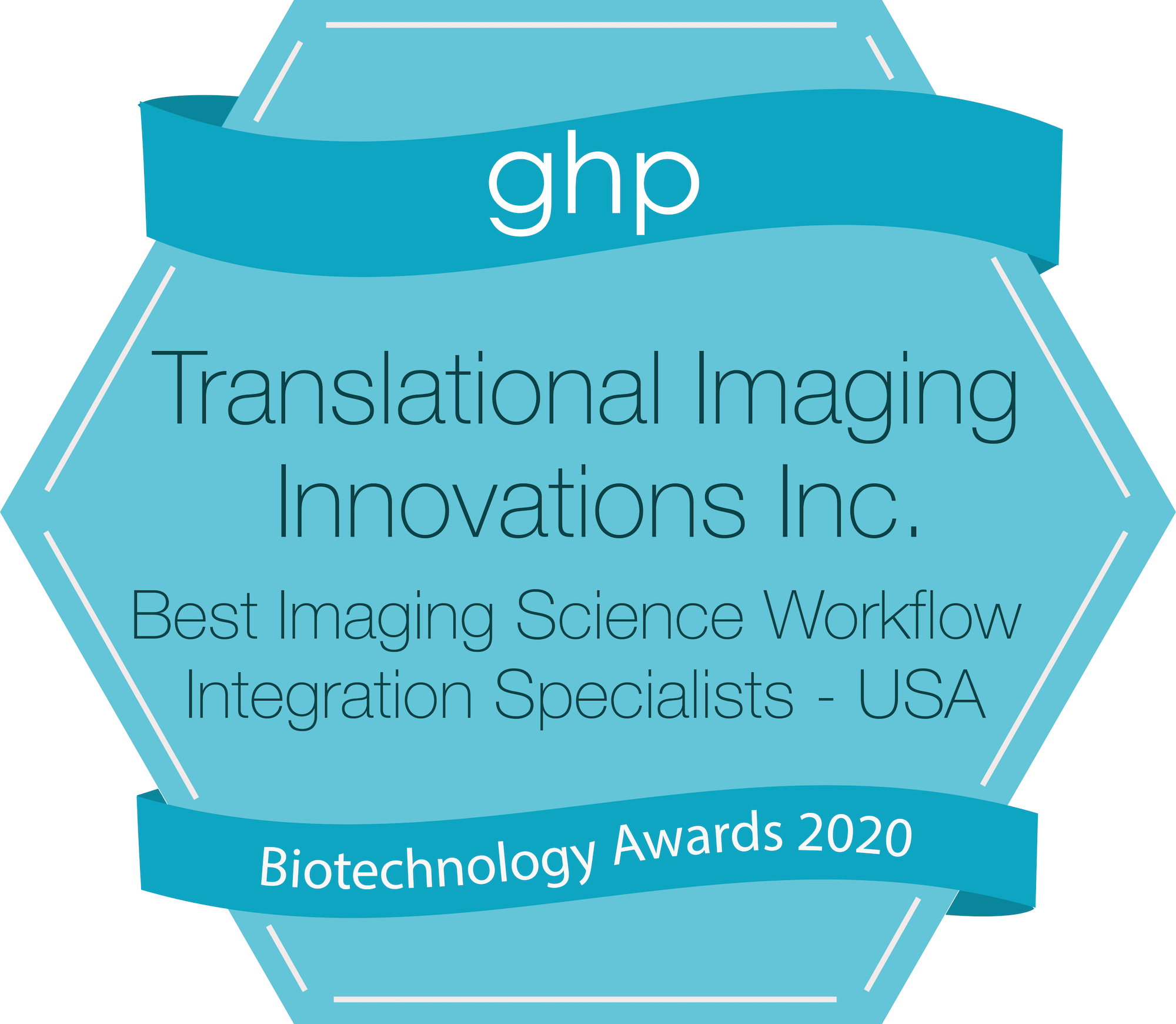 With our recent SBIR Direct to Phase II award and this honor from GHP, our products will continue to reach a large audience and provide our customers with new software tools to enhance vision research today and in the future.
TII Receives Direct-to-Phase II Award for Development of Photoreceptor Analysis Software
This Direct-to-Phase II Small Business Innovation Research (SBIR) award is a collaboration between Translational Imaging Innovations and the Advanced Ocular Imaging Program. Eric Buckland, Ph.D., CEO of TII, and Joseph Carroll, Ph.D., Professor of Ophthalmology & Visual Sciences and Director of AOIP, are co-Principal Investigators on the project.

TII will develop and apply Mosaic Analytics to automatically analyze the retinal photoreceptor mosaic from Adaptive Optics images of 1800 subjects afflicted by degenerative eye disease. TII is commercializing MOSAIC as the first commercial software package for quantitative analysis of non-invasive images of the human photoreceptor mosaic.